F1 - 2020 Eifel Grand Prix

This weekend F1 will be running at a venue that is a blast from the past: the Nurburgring. The last time the Nurburgring hosted F1 was in 2013. Interestingly, all drivers who achieved a podium in that 2013 event will compete this weekend. Set in the Eifel mountains (which is also the namesake for the 2020 event) it is just 75 miles from Spa-Francorchamps and the Nurburgring is likewise known for changeable weather which often impacts races held here.
Like most teams, Red Bull enter the weekend with some familiarity of the Nurburgring circuit but not in the V6 Hybrid era. There seems to be a status quo setting in at Red Bull which is to have one car fighting for a podium but not quite having enough pace for the outright win. That, however, is during a dry race and rain is in the forecast this weekend which suits Red Bull and Verstappen well. If the race is dry, expect 3rd place, if it's wet, expect a win. The weather could similarly sake things up on the AlphaTauri side. Normally we would expect one car in the points while anything is possible if it's a wet race.
Elsewhere on the grid, Mercedes is still the team to beat on all fronts. Expect the next battle to be between a McLaren and a Renault. Following very closely will be a Racing Point looking to capitalize on any error from the cars in front. As Ferrari continue to bring upgrades to their car they may slowly begin to move back up the grid. As we begin to move out of the points-paying positions we can expect to see a couple of team cars from the other midfield runners and the usual battle between Haas and Alfa Romeo. Williams will be toward the back although in recent races they have challenged the Ferrari-powered duel in front of them.
US TV
SCHEDULE
Practice 1 – Friday, October 9 – 4.55AM – ESPN2
Practice 2 – Friday, October 9 – 8.55AM – ESPN2
Practice 3 – Saturday, October 10 – 5.55AM – ESPN2
Qualifying – Saturday, October 10 – 8.55AM – ESPN2
Grand Prix Sunday – Sunday, October 11 – 6.30AM – ESPN2
Race – Sunday, October 11 – 8.05AM – ESPN2
CIRCUIT
INFO
Direction: Clockwise
Turns: 17
Race laps: 53
Lap Distance: 5.148km (3.19 mi)
Race Distance: 308.617km
Longest Straight: m
Top Speed: 297kph
Average Speed: TBDkph
Altitude: 620m above sea level
Lap Record: 1:29.468, Michael Schumacher, 2004
Downforce Level: High
Cooling Requirement: Low
Typical Strategy: 1 Stop Race
Pitlane Length: 381m
Tyres: Hard (C2), Medium (C3), Soft (C4)
CURRENT
STANDINGS
Drivers
1. Lewis Hamilton, Mercedes, 205
2. Valtteri Bottas, Mercedes, 161
3. Max Verstappen, Red Bull, 128
4. Lando Norris, McLaren, 65
5. Alex Albon, Red Bull, 64
6. Daniel Ricciardo, Renault, 63
7. Charles Leclerc, Ferrari, 57
8. Lance Stroll, Racing Point, 57
9. Sergio Perez, Racing Point, 56
10. Pierre Gasly, AlphaTauri, 45
Constructors
1. Mercedes, 366
2. Red Bull, 192
3. McLaren, 106
4. Racing Point, 104
5. Renault, 99
6. Ferrari, 74
7. AlphaTauri, 59
8. Alfa Romeo, 4
9. Haas, 1
10. Williams, 0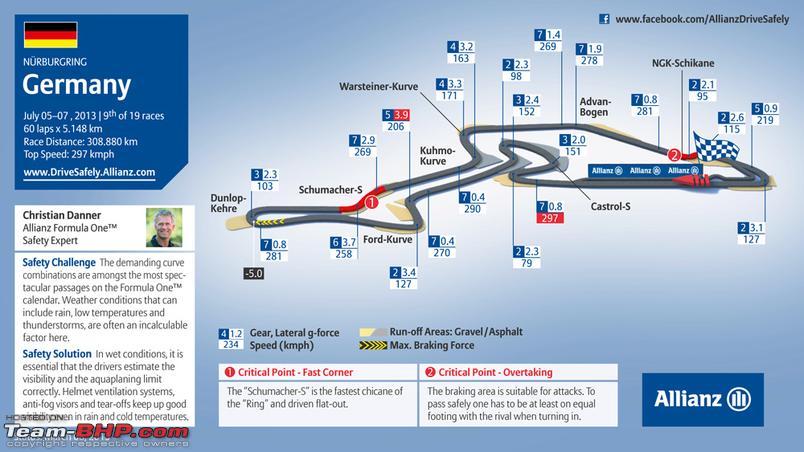 ---
Reply